12 Cores MM 50/125 um, XG(10GB)OM3 Outdoor Armored Cable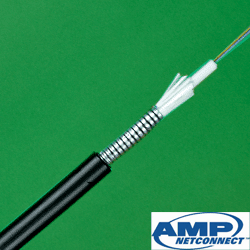 Part number : 3-1427434-3
Brand : AMP NETCONNECT
AMP OSP (Outside plant) cables are designed for campas-type environments, Ducted or Directed burial underground service for long runs between buildings, AMP cables are tested to the TIA requirements for current and proposed applications such as 100BASE-F, 155/622 Mbps, ATM, AMP NETCONNECT distribution cables has been designed to meet or exceed the requirements of 10Gigabit while still suppoting legacy LED and VCSEL The system fufills the specifications of IEEE 802.3z, Gigabit Ethernet, IEEE 802.3ae, 10Gigabit Ethernet. The cables are available with either singlemode, 62.5-micron Extended Grade or 50-micron and 50/125 Laser Optimized (XG)

Specification:. The Optical fiber cable shall contain 4, 6, 8, 12 for fibers in a central PBT Loose Tube surrounded by water-blocking gel, (Thixotropic Gel) and water blocking glass yarns are placed around the perimeter of the loose tube provide mechanical strength to the cable, and then a corrugated steel tape (with copolymer coating on both sides) is then longitudinaly applied as armored. TIA/EIA 598 color coded fibers for easy identified, Outer jacket 1.9mm thickness, HDPE Polyethylene jacket for UV/harsh outdoor environment protection. The cable jacket .
Price : 143.75 Baht

download pdf
---






0.00 Baht




101.33 Baht




0.00 Baht




42.67 Baht
Catalogues List
AMP Netconnect Products.




Fiber Optic Cable.




Fiber Optic Component.




PatchCord Assemblies.




Cable Management Fiber.




Fusion Splice Products.




Tools for Fiber Optic.




UTP&FTP Cable.




UTP&FTP Component.




Control Cable.




Building Cable.




Computer Network Cable.




Tools for UTP Solution.




Network&Video Media Conversion




Active Device.




Surge Protection




Test Equipment.




19" Cabinet Rack.




Control room for CCTV




Voice Equipment.




Material for Outside Plant.




Accessories for Installation.




Service & Support By BISMON.



---