M710 Multifunction OTDR SingleMode/OPM/VFL/LinkMap (40/38dB)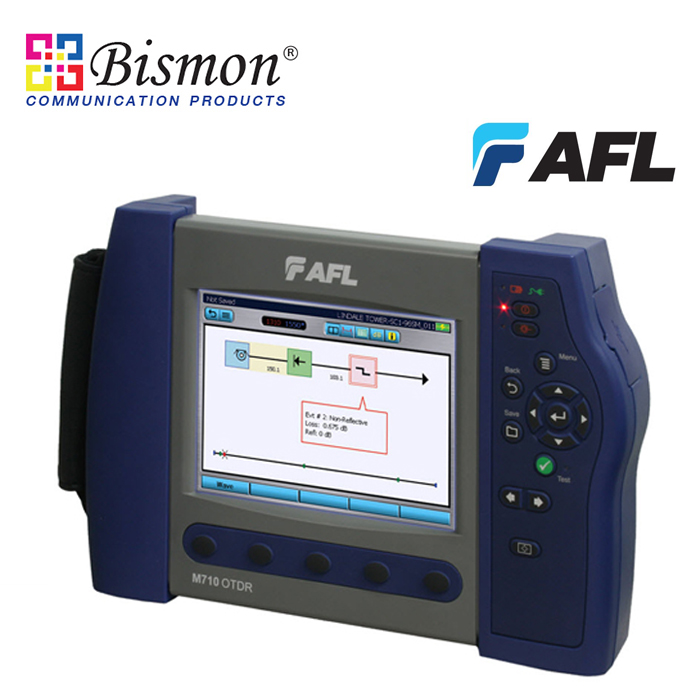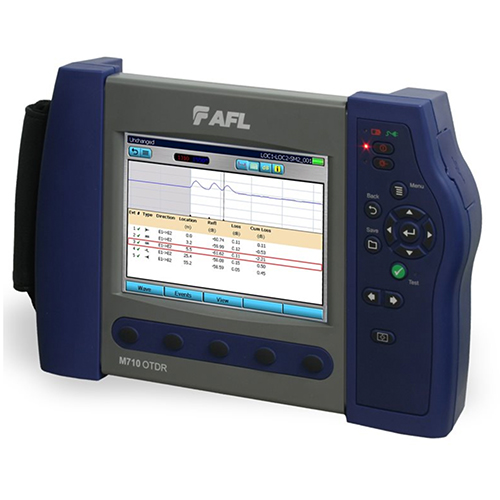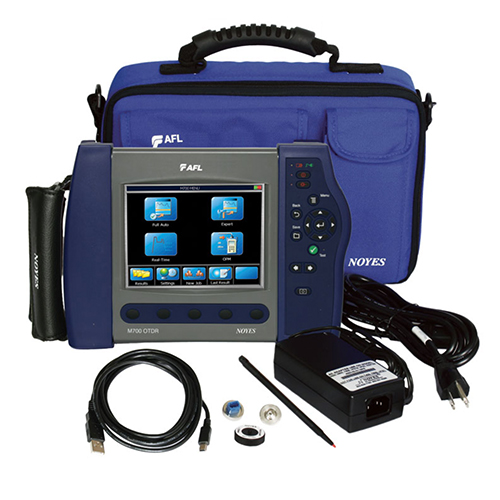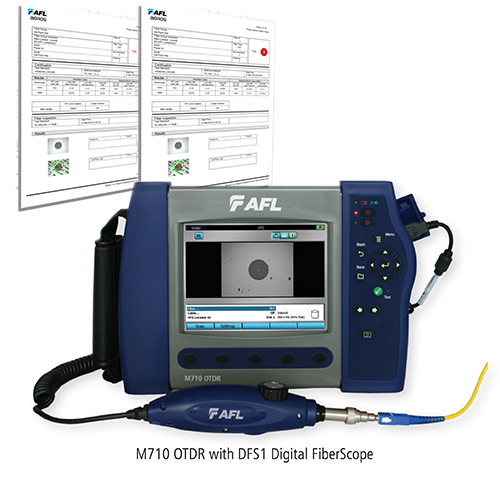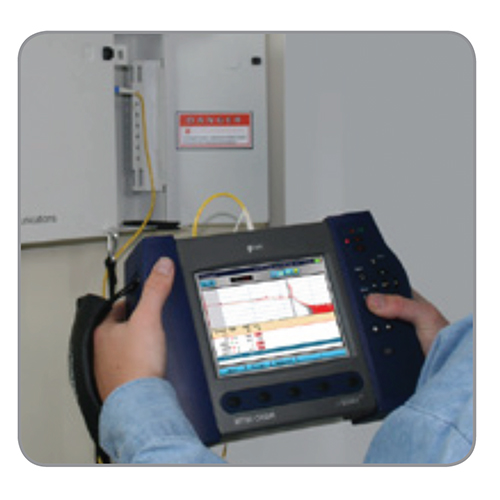 Part number : M710-20
Brand : Noyes
Price : 256,250.00 Baht
(Dealer price can log-in/ Exclude Vat)

download pdf
M710 Compact SM and MM OTDRs
The AFL M710 OTDR from AFL combines ease of use (Touch and Test™) and functionality in a field-rugged, hand-held package. With single-mode dynamic ranges up to 40 dB and multimode dynamic ranges of 26 dB, the M710 OTDR is ideal for testing and troubleshooting LAN/WAN, metro, FTTx and long haul networks. Industry leading dead zones of less than 1.0 m enhance users' ability to locate and measure events. Testing at 1310 and 1550 nm is normally sufficient to certify point-to-point or FTTx PON fibers and allows the detection of macrobends.
With a full set of testing tools including OTDR, OPM, VFL and end-face inspection capability the M710 is a complete solution for fiber network owners and installers.
The M700 comes complete with TRM™ Certification Reporting Software for comprehensive reports compliant to TIA/ISO guidelines.
Features:
• 40 dB Dynamic Range
• 0.8 dB event dead zone, 4.5 dB attenuation dead zone
• Integrated Test functions OTDR, OPM and VFL
• Inspection capable
Applications:
• Test, Troubleshoot and Tier 2 certify:
• Full Auto OTDR - installation and fault location
• Expert OTDR - with Auto and Auto Once
• Real-Time OTDR - fault location and splice verification
More Features:
• Integrated OPM and VFL (650 nm)
• Full Auto, Expert, and Real-Time OTDR test modes
• Pass/Fail Event and Link Thresholds settings
• 6.5-inch transflective (indoor/outdoor) touch screen display
• Tool-free, switchable test port adapters
• Rechargeable Li-Ion battery (>8 hours) or AC power
• USB host and function ports for data storage and transfer
• Bellcore (GR-196) .SOR file format
• Internal (1000s test results) and USB storage
• Windows® compatible software
The M710 is offered in four models
M710-20:
Single-mode OTDR 1310/1550 nm with dynamic ranges of 40/38 dB and short dead zones for testing Metro, FTTx and Long haul networks
M710-21:
Single-mode OTDR 1310/1550/1625 nm with dynamic ranges of 40/38/38 dB and short dead zones for testing Metro, FTTx and Long haul networks
M710-21:
QUAD Long Range OTDR 850/1300/1310/1550 nm 24/24/39/37 dB Dynamic Ranges and short dead zones for tier 2 certification testing and troubleshooting multimode and single-mode fibers in LAN/WAN, Metro, FTTx and Long haul networks
M710-25:
QUAD OTDR 850/1300/1310/1550 nm with dynamic ranges of 22 dB MM and 26 dB SM for tier 2 certification testing and troubleshooting multimode and single-mode fibers in LAN/WAN and Metro networks
Features: •Large Touch-Screen Display up to 6.5 inch •TruEvent? advanced event analysis •Dynamic Range up to 44dB for long haul link testing >8 hours battery life •Inspection capable with DFS1 Digital FiberScope •Front Panel and First Connector Check ensures accurate measurments •Automatic Pass/Fail Analysis •Integrated Optical Power Meter and Visual Fault Locator •Live fiber detection prevents damage to network equipment
Product Review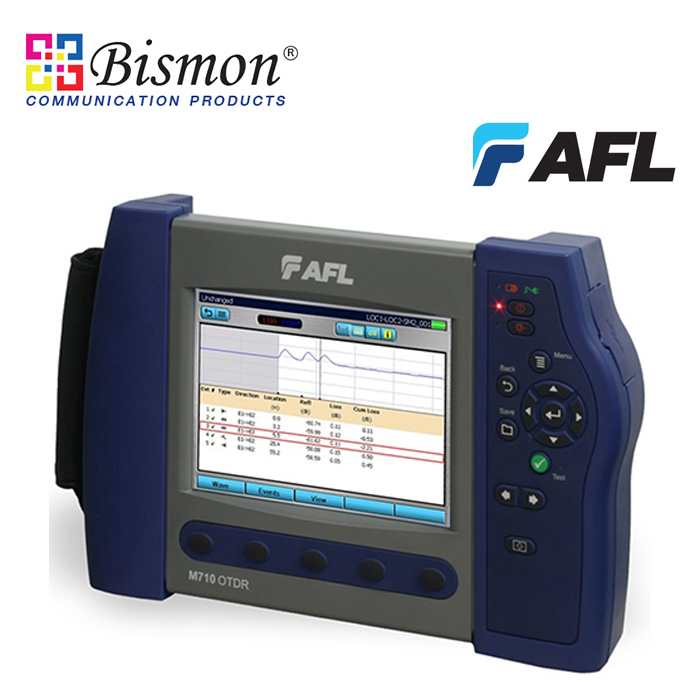 M710 Multifunction OTDR SingleMode/OPM/VFL/LinkMap/1310/1550/1625nm (41/39/39dB)
Price : 301,875.00 Baht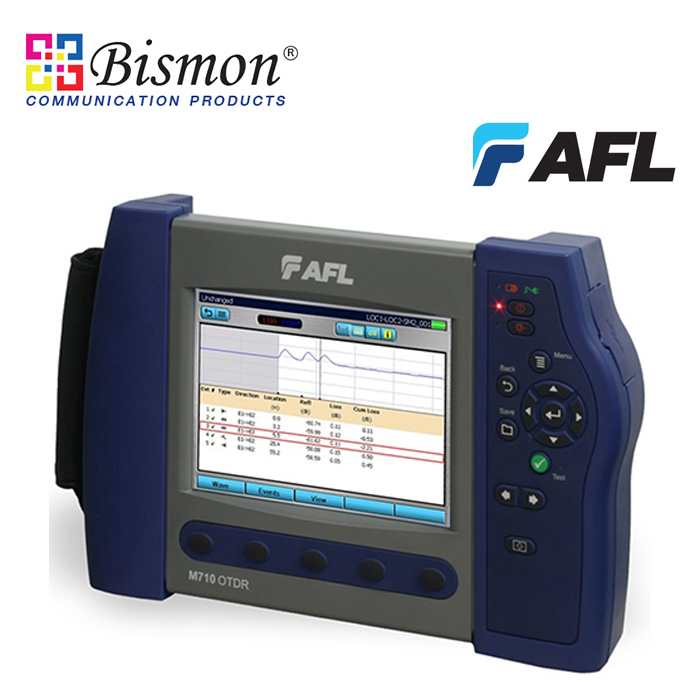 Hand-Held OTDRs Singlemode 1310/1550nm/OPM/VFL/LinkMap(44/42dB)
Price : 331,250.00 Baht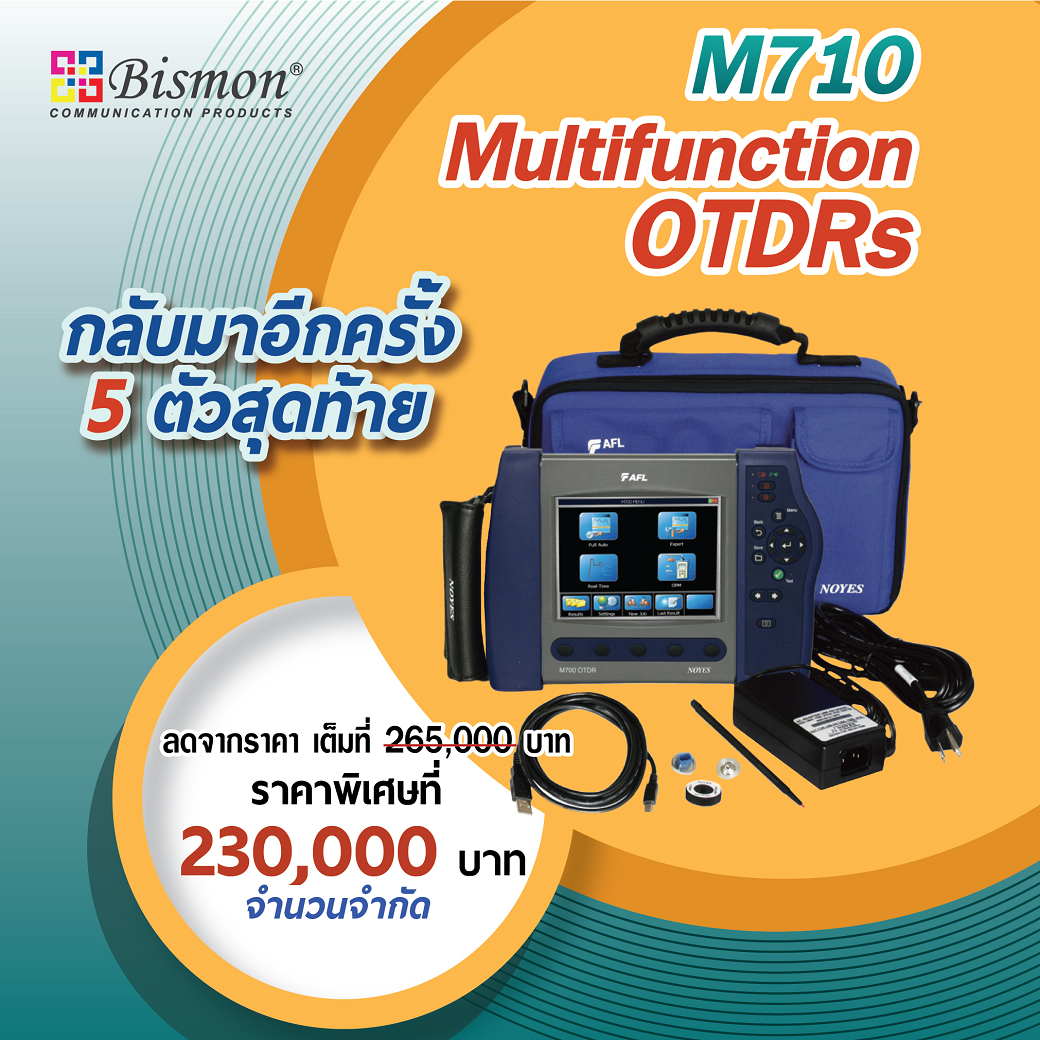 M710 Multifunction OTDR MM/SM, OPM/VFL/LinkMap(25/24/40/38dB)
Price : 230,000.00 Baht
---
Information
Products & Services