20x10/100/1000M RJ45 ports PoE and 4x1/10G uplink SFP+ L3 Managed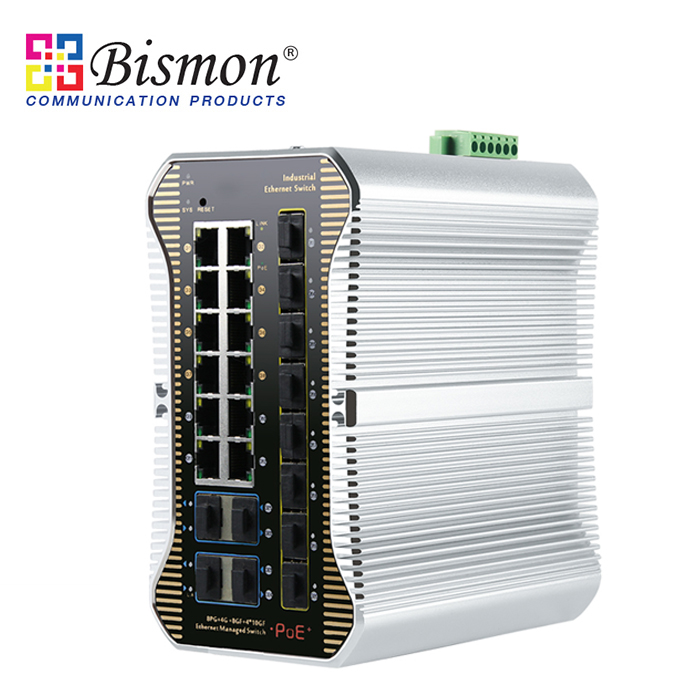 Part number : B1-IPS38248PFM
Brand : BISMON
Price : 33,336.00 Baht

(Dealer price can log-in/Ex-Vat 7%)


20x10/100/1000M RJ45 ports PoE and 4x1/10G uplink SFP+ L3 Managed
Add to cart Done!
Product added to shopping cart successfully.
You can continue to products or select "Shopping Cart" for payment.
This notification will close in 2 seconds.
OVERVIEW
The B1-IPS38248PFM is a L3 10G uplink managed industrial PoE fiber switch independently developed by BISMON. it has 12*10/100/1000Base-T RJ45 ports and 8*100/1000Base-X SFP fiber slot ports and 4*1/10G SFP+ fiber slot ports. Port 1-8 can support IEEE 802.3af/at standard POE, single port POE power up to 30W, and the maximum POE output power of the whole machine is 120W(at-240W). As a PoE power supply device, it can automatically detect and recognize the power receiving equipment that meets the standard and supply power through the network cable. It can supply power to POE terminal equipment such as wireless AP, webcam, VoIP phone, industrial sensor through network cable, and meet the network environment that needs high-density PoE power supply. It is suitable for intelligent transportation, rail transit, electric power, mining, metallurgy and green energy. Industrial scenes such as construction set up a cost-effective and stable communication network.
The B1-IPS38248PFM has the L3 full network management, supports IPV4/IPV6 management, static route full line rate forwarding, security protection mechanism, ACL/QoS policy and VLAN, and is easy to manage and maintain. It has the leading ring network technology, supporting a variety of industrial redundant redundant ring network protocol, any port can be a ring, support chain type, star type, double star type, ring type, tangent ring, intersecting ring, coupling ring, ring network 20ms self healing. It has high reliability, security and manageability, ensure reliable transmission of key data, support remote management, and can manage cluster management with ONV-NMS network management platform. B1-IPS38248PFM industrial series products fully follow industrial product design and material. The casing uses aluminum alloy to enhance heat dissipation. It has excellent industrial field environment adaptability (including mechanical stability, climate and environment adaptability, electromagnetic environment adaptability, etc.), Protection level is IP40, support dual power supply, low power consumption no fan heat dissipation technology, MTBF average fault free working time can reach 35 years, 5 years warranty.
L3 managed industrial PoE fiber switch with 12*10/100/1000M RJ45 ports and 8*100/1000M SFP slot ports and 4*1/10G uplink SFP+ slot ports , Port 1-8 can support IEEE802.3af/at PoE. Support DC dual power supply input and DIN rail mounting.
FEATURE
Full gigabit port ,10G uplink
• All series supports Ethernet port and 10G SFP+ port combination, which enables users to flexibly build networking to meet the needs of various scenarios.
• Support non-blocking wire-speed forwarding.
• Support full-duplex based on IEEE802.3x and half-duplex based on backpressure.
Intelligent PoE power supply
• 8*10/100/1000Base-T RJ45 ports, meeting the needs of security monitoring, teleconferencing system, wireless coverage, and other scenarios.
• IEEE 802.3af/at PoE standard, without damaging non-PoE devices.
• PoE network management, realize PoE port power allocation, priority setting, port power status viewing, time scheduling, etc.
Strong business processing capability
• IEEE802.1Q VLAN, flexible VLAN division,Voice VLAN and QinQ configuration.
• QoS, Priority mode based on 802.1P, Port & DSCP, queue scheduling algorithm including Equ, SP, WRR & SP+WRR.
• ALC, filter data packet through configuring matching rules, processing operation & time permission, and provide flexible and safe access control.
• IGMP V1/V2 and IGMP Snooping.
• ERPS/STP/RSTP/MSTP.
• Static and dynamic aggregation.
Security
• 802.1X authentication.
• Port isolation,Storm control.
• IP-MAC-VLAN-Port binding.
Stable and reliable
• CCC,CE, FCC, RoHS.
• Low power consumption, no fan , aluminum casing.
• The user-friendly panel, it can show the device status through the LED indicator of PWR, Link ,PoE.
Easy operation and maintenance management
• HTTPS, SSLV3, and SSHV1/V2.
• RMON, system log, LLDP, and port traffic statistics.
• CPU monitoring, memory monitoring, Ping test, and cable diagnose.
• Web management, CLI command line (Console, Telnet), SNMP (V1/V2/V3).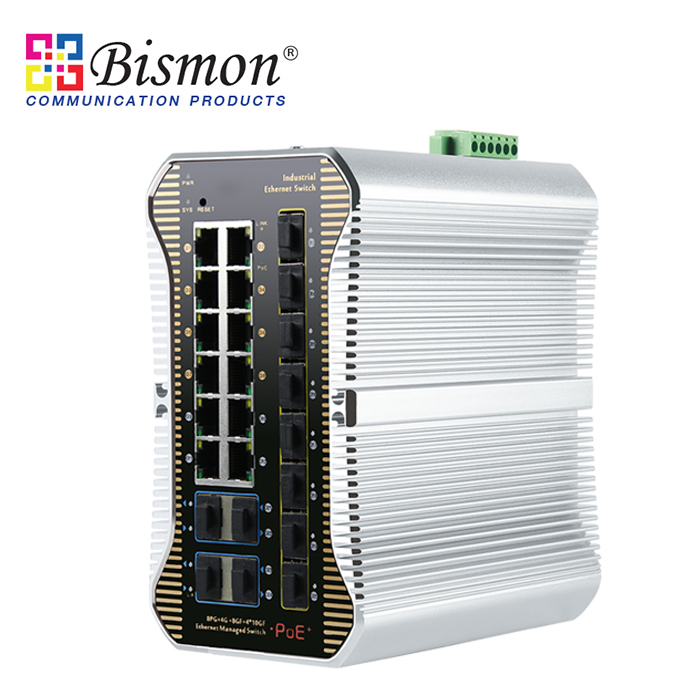 Specification
Model B1-IPS38248PFM
Interface Characteristics
Fixed Port 8*10/100/1000Base-T PoE ports (Data/Power) ; 4*10/100/1000Base-T uplink RJ45 ports (Data)
8*100/1000Base-X uplink SFP slot ports (Data) ; 4*1/1G uplink SFP+ slot ports (Data)
1 * RS232 console port(115200,N,8,1) / Power off alarm switch (FAULT)
2 set of V+, V- redundant DC power interface (6 Pin Phoenix terminal)
Ethernet Port Port 1-8 support 10/100/1000Base-T,auto-sensing,Full/half duplex MDI/MDI-X self-adaption
Optical Fiber Port Gigabit SFP optical fiber interface, default matching optical modules
Chip Parameter
Network Management Type L3
Network Protocol IEEE802.3 10BASE-T, IEEE802.3i 10Base-T
IEEE802.3u 100Base-TX , IEEE802.3ab 1000Base-T
IEEE802.3z 1000Base-X
IEEE802.3ae 10GBase-LR/SR
IEEE802.3x
Forwarding Mode Store and Forward (Full Wire Speed)
Switching Capacity 598Gbps
Forwarding 89.28Mpps
MAC 32K
Buffer Memory 32M
Jumbo Frame 9.6K
LED Indicator Power: PWR (green), System : SYS (green), Network: Link (yellow); Fiber Port : L/A (green), PoE: PoE (green)
PoE & Power
PoE Port Port 1 to 8
PoE Management Support
Power Supply Pin Default: 1/2 (+), 3/6 (-)
Max Power Per Port 30W, IEEE802.3af/at
Total PWR / Input Voltage 120W (48VDC)
Power Consumption Standby<18W, Full load<120W
Working Voltage 48-57VDC, 5 Pin industrial Phoenix terminal, support anti-reverse protection.
Power Supply No, optional 48V/120W or 48V/240W industrial power supply
Physical Parameter
Operation TEMP / Humidity -40~+80°C;5%~90% RH Non condensing
Storage TEMP / Humidity -40~+85°C;5%~95% RH Non condensing
Certification & Warranty
Lightning protection / protection level
Lightning protection: 6KV 8/20us; Protection level: IP40
IEC61000-4-2(ESD):±8kV contact discharge,±15kV air discharge
IEC61000-4-3(RS):10V/m(80~1000MHz)
IEC61000-4-4(EFT): power cable:±4kV; data cable:±2kV
IEC61000-4-5(Surge):power cable:CM±4kV/DM±2kV; data cable:±4kV
IEC61000-4-6(radio frequency transmission):10V(150kHz~80MHz)
IEC61000-4-8(power frequency magnetic field):100A/m;1000A/m ,1s to 3s
IEC61000-4-9(pulsed magnet field):1000A/m
IEC61000-4-10(damped oscillation):30A/m 1MHz
IEC61000-4-12/18(shockwave):CM 2.5kV,DM 1kV
IEC61000-4-16(common-mode transmission):30V; 300V,1s
FCC Part 15/CISPR22(EN55022):Class A
IEC61000-6-2(Common Industrial Standard)
Mechanical Properties IEC60068-2-6 (anti vibration)
IEC60068-2-27 (anti shock)
IEC60068-2-32 (free fall)
Certification CCC;CE mark, commercial; CE/LVD EN60950;FCC Part 15 Class B; RoHS;
Warranty 3 years, lifelong maintenance.
Download Datasheet
---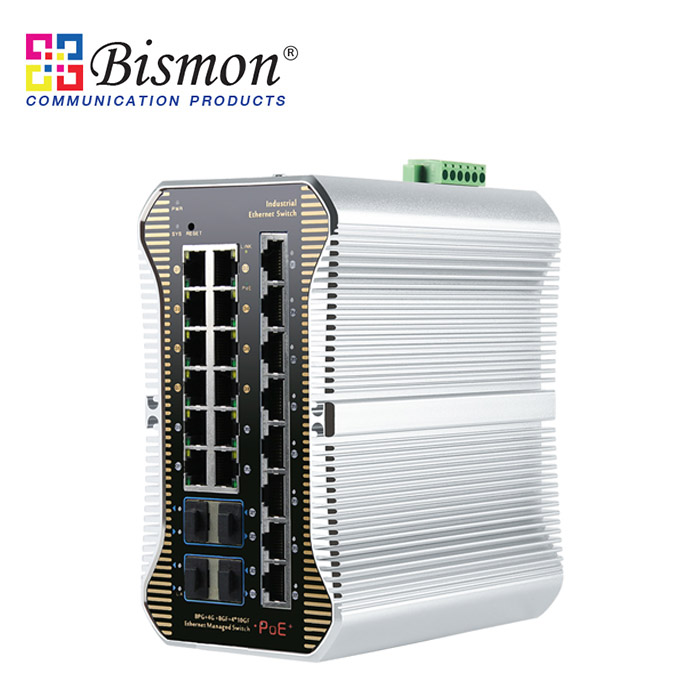 8 ports 10/100/1000M RJ45 PoE+12Port RJ45 1000M+4SFP 1GB/10GB Uplink Industrial Switch Managed Layer3
Price : 35,468.00 Baht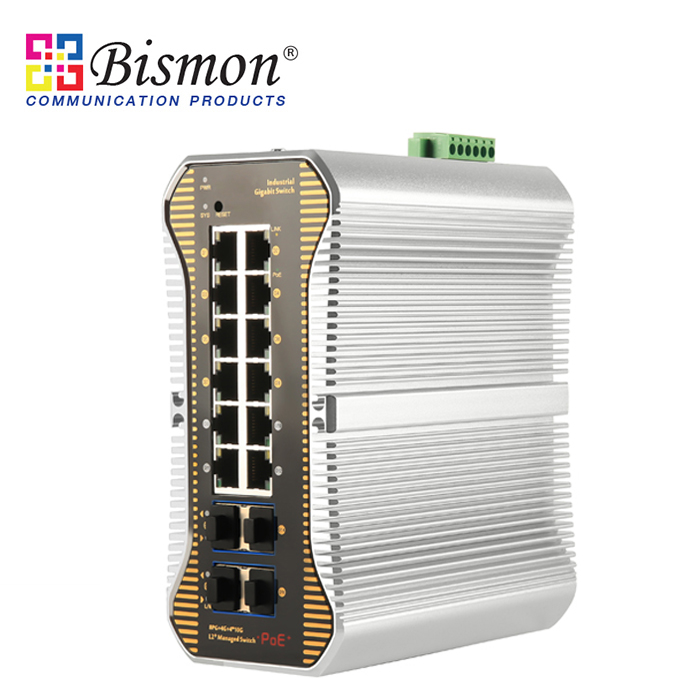 8 ports 10/100/1000M RJ45 PoE +4 SFP slot(10GB)Industrial Switch Managed Layer3
Price : 27,868.00 Baht
Back To Top