8 ports Gigabit PoE+2 SFP slot Uplink Industrial Switch Managed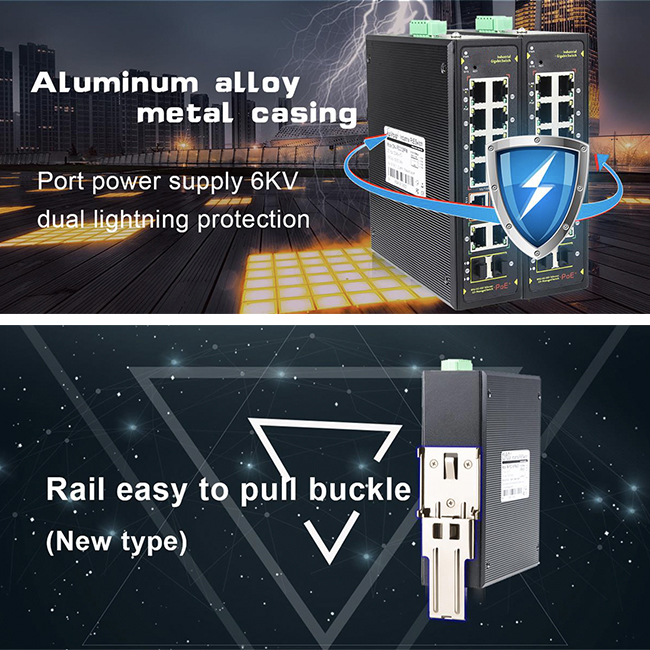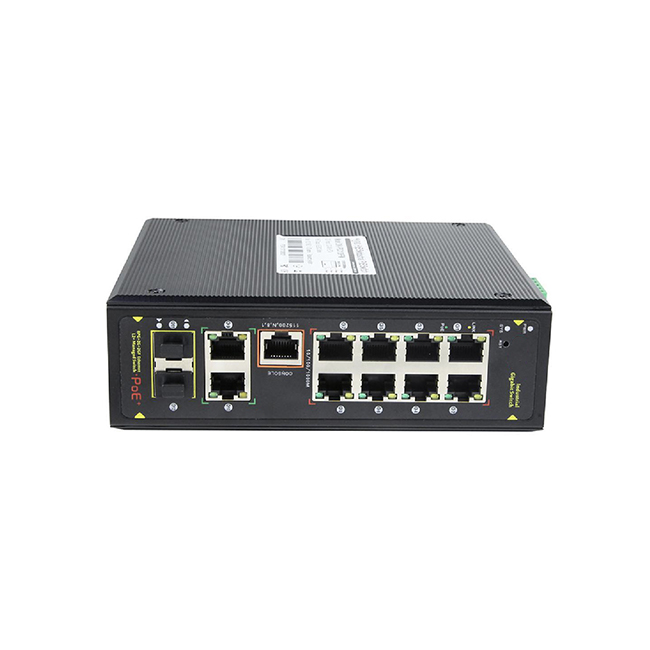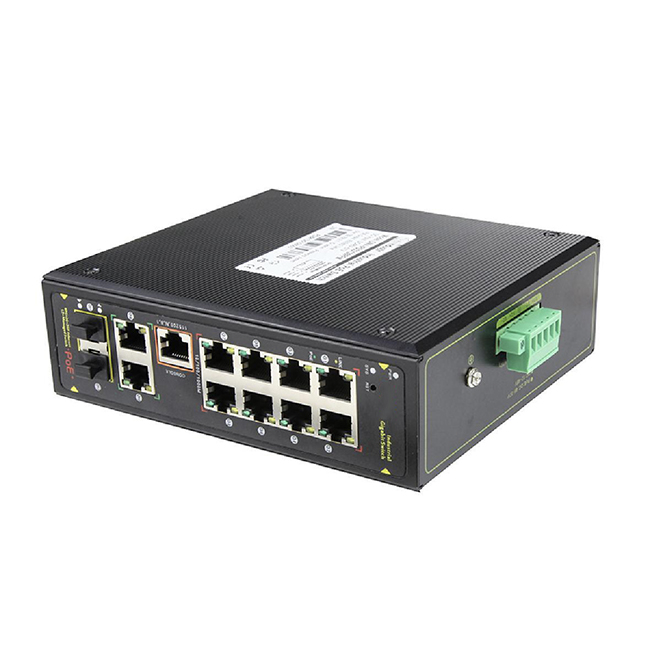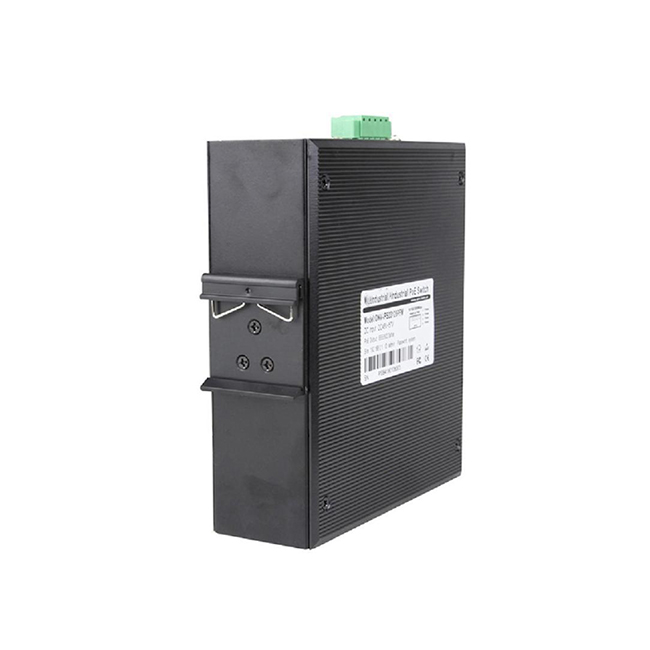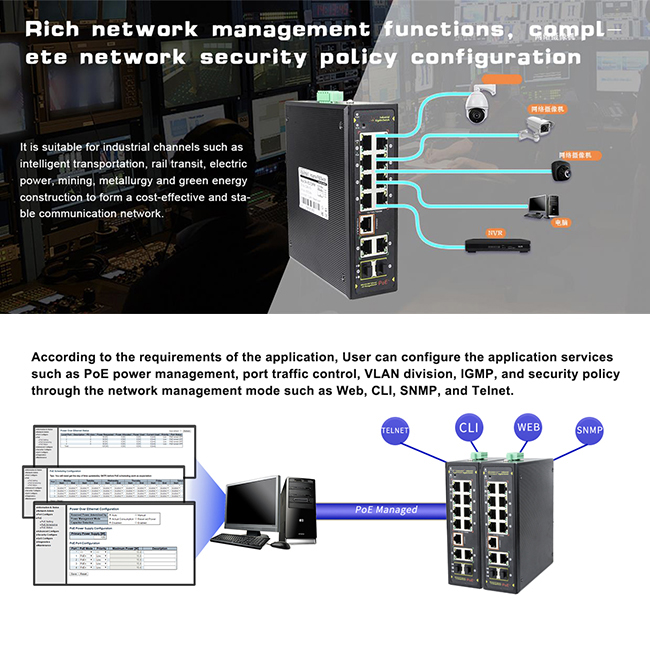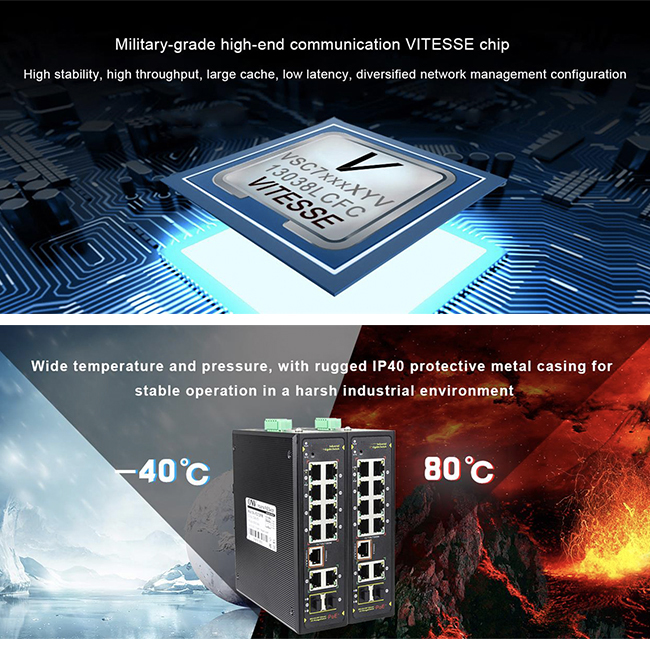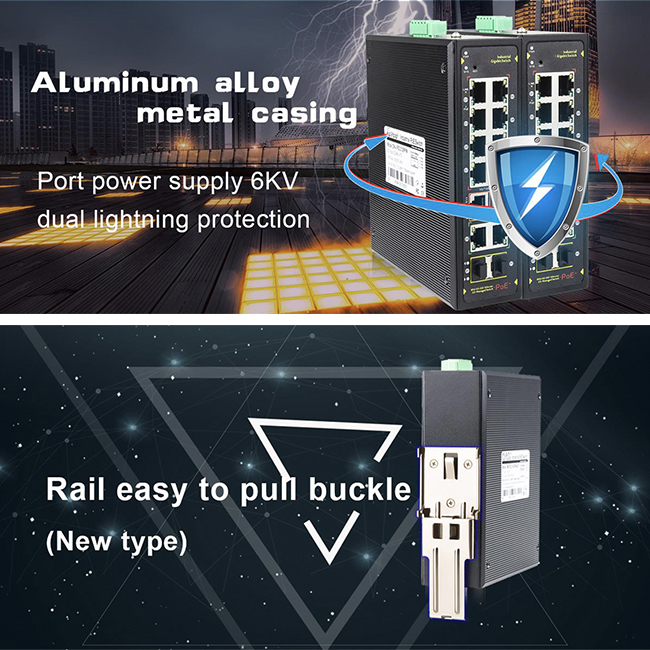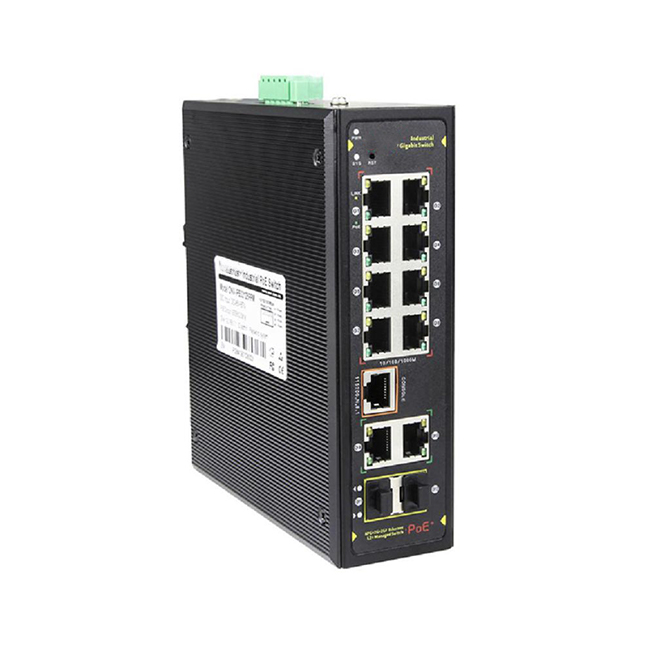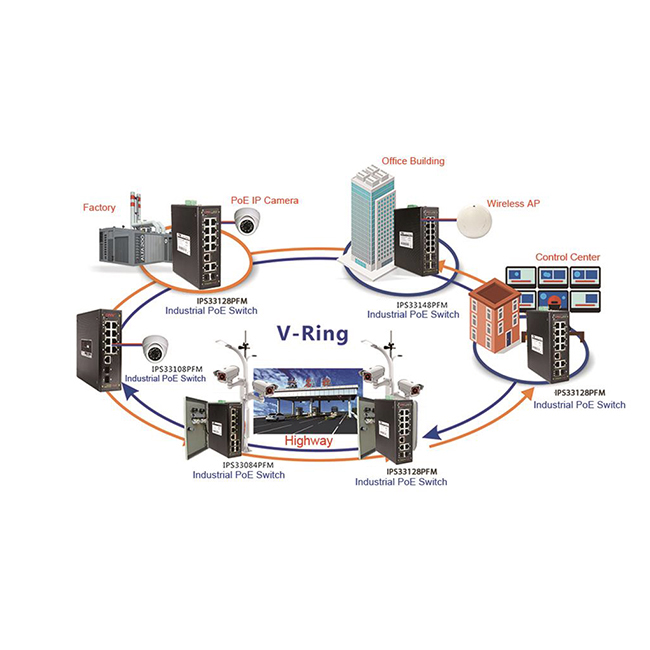 Part number : B1-IPS33128PFM
Brand : BISMON
Price : 13,000.00 Baht
8 ports Gigabit PoE+2 SFP slot Uplink Industrial Switch Managed
ตัวแปลงสัญญาณและกระจายสัญญาณ เกรดอุตสาหกรรม Ethernet Industrial Switch Managed (มีโปรแกรมควบคุม) Layer 2 แบบ 8 port RJ45 PoE speed 10/100/1000Mbps แบบ PoE port โดยสามารถเลือกสั่งสินค้าได้ทั้งแบบจ่ายไฟออกที่ 15.4W หรือสูงสุดที่ 30W ต่อพอร์ต (IEEE802.3at) พร้อมด้วย Uplink Fiber optic 2 port SFP Slot โดยสามารถเลือก Module transceiver Mini GBIC แบบ Dual Core หรือ Single Fiber ได้ทั้งแบบ Single-mode และ Multi-mode ขึ้นอยู่กับชนิดของ Fiber optic ที่ใช้งานจริง เหมาะกับงานภายนอกอาคารโดยเฉพาะ IP 40 protection class พร้อมสามารถยึด Din rail mounting ได้, Support Ring Network, Layer2 รองรับการส่งข้อมูล Switch capacity 192Gbps, Mac table 8K, Power input DC 48-57V.(120W/240W.Max)
The B1-IPS33128PFM series is a full gigabit managed industrial PoE switch independently developed by BISMON. It has 8*10/100/1000M PoE ports and 2*10/100/1000M RJ45 ports and 2*100/1000 SFP slot ports, Port 1-8 can support IEEE 802.3af/at standard POE power supply, single port POE power up to 30W, and the maximum POE output power is 120W (at-240W). As a POE power supply device, it can automatically detect and identify the electrical equipment that meets the standard and supply power through the cable. It can supply the POE terminal equipment, such as wireless AP, network camera, network telephone, industrial sensor and so on, to meet the demand for high-density PoE power supply network environment. It is suitable for intelligent transportation, rail transportation, electric power industry, mining, metallurgy and green energy construction and so on.
ERPS ring network function, the switching time is less than 20ms, supporting multi-ring networking.
The managed model supports a variety of network redundancy protocol STP/RSTP/MSTP (<50ms). When the one-way network fails, communication can be recovered quickly to ensure uninterrupted communication of important applications. ONV-IPS33128PFM industrial series products fully follow industrial product design and material. The shell adopts aluminum alloy to enhance heat dissipation efficiency, IP40 protection grade and ensures the stable operation of the equipment in a bad environment. According to the actual application needs, through Web, CLI, SNMP network management, POE power supply management, port flow control, VLAN division, STP, RSTP and other functions of the application service configuration.
Product Review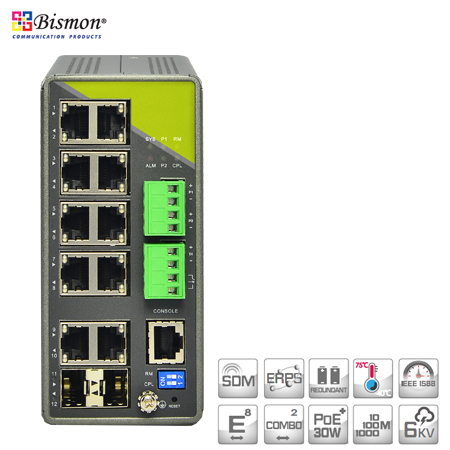 8 Ports Gigabit PoE + 2 port SFP/RJ45 Combo, L2 Managed Industrial Switch
Price : 37,500.00 Baht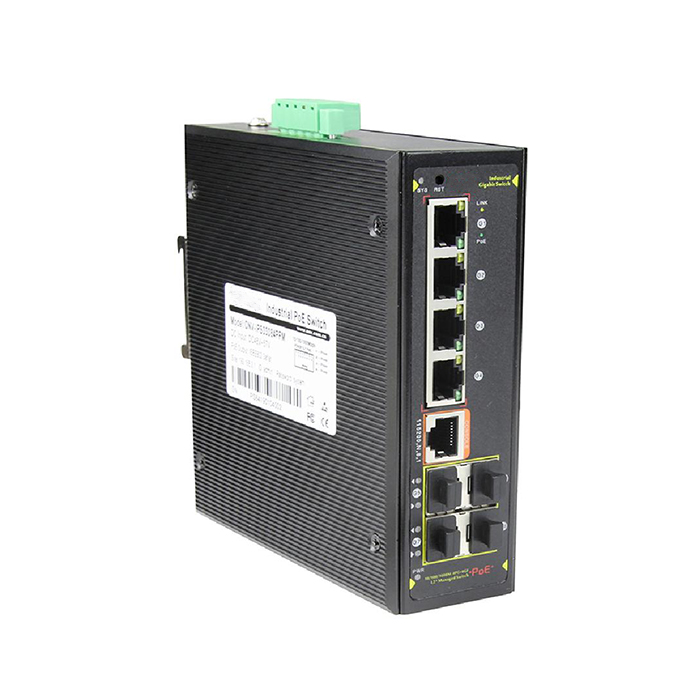 4 ports RJ45 PoE Gigabit+4SFP Slot Fiber Industrial Switch Managed
Price : 11,268.00 Baht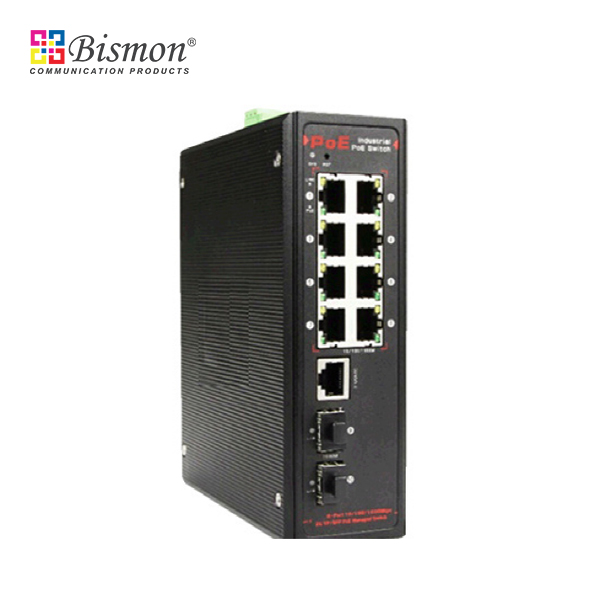 8 ports Gigabit RJ45 PoE with 2 SFP Slot Industrial Switch Managed
Price : 12,400.00 Baht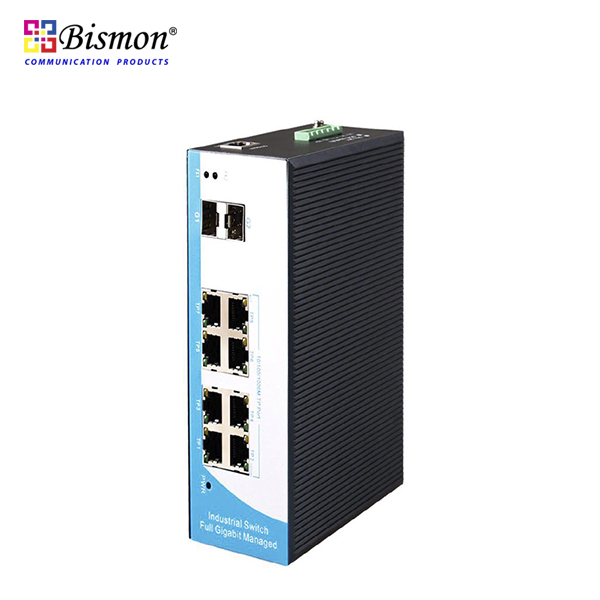 8 Ports Gigabit PoE 25W 2SFP slot Managed Industrial Switch
Price : 15,336.00 Baht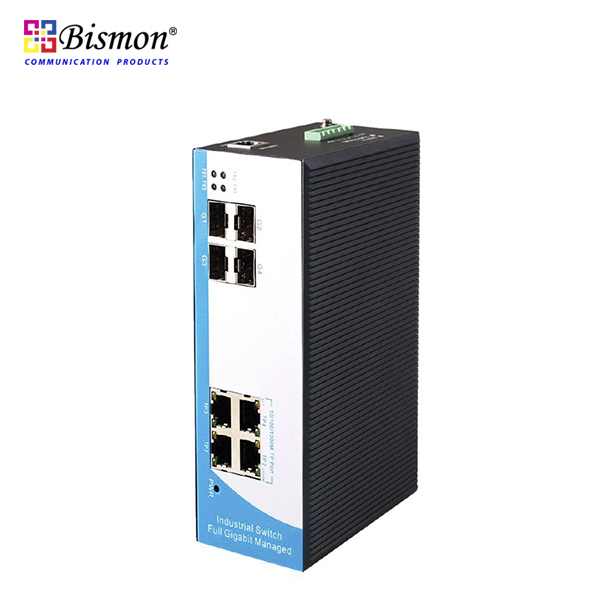 4 Ports Gigabit PoE 25W+4 SFP slot Managed Industrial Switch
Price : 15,336.00 Baht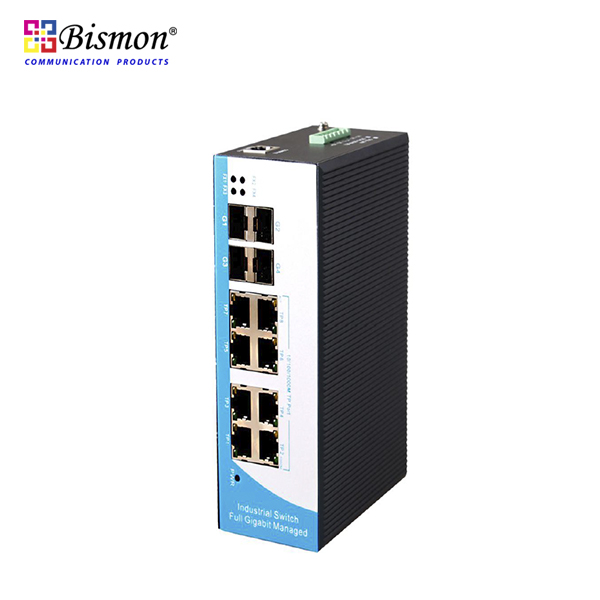 8 Ports Gigabit PoE 25W, 4SFP slot, 1 console Managed Industrial Switch
Price : 16,400.00 Baht
---
Information
Products & Services