Crimp Tools for ST/SC/FC/D4 Connector with Die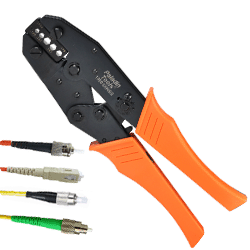 Part number : 1362
Brand : Tools Fiber and Consumables
- คีมบีบหัว คอนเน็คเตอร์ ชนิด ST/SC/FC สำหรับมืออาชีพโดยเฉพาะ นำเข้าจากอเมริกา ยี่ห้อ Paladin Tools ซึ่งเป็นเหล็กชนิดเกรด A สามารถย้ำหัวคอนเน็คเตอร์ได้แน่นและแน่นอน พร้อมอายุการใช้งานยาวนานกว่ามาก เมื่อเทียบกับคีมในเกรด ไต้หวันทั่วไป (.128"/.151"/.215"/.197"/.178" Hex)The original interchangeable-die crimping system - all the rest are mere copies of the Paladin innovation. It continues to be the answer for precision-crimping at an affordable price with 5 die sets available.

To satisfy the pull strength demand and increase the durability of connction, precise crimping must be applied to various kinds of fiber optic connectors. Available from Go4Fiber are qual- ity interchangeable-die crimp tool ard a full set of dies. In addition to quality ratchet for pre- cision crimpin and small grip distance features for 1600 Series, 8000 series even offers angled head which prevents awkward wrist bending during operation as well as rubber-embedded handles which make a comfortable and non-slip grip. Specially selected dies can handle most of the popular optical connectors crimping. Special die is available upon request.
Price : 6,080.00 Baht
---






2,240.00 Baht




6,860.00 Baht
Catalogues List
AMP Netconnect Products.




Fiber Optic Cable.




Fiber Optic Component.




PatchCord Assemblies.




Cable Management Fiber.




Fusion Splice Products.




Tools for Fiber Optic.




UTP&FTP Cable.




UTP&FTP Component.




Control Cable.




Building Cable.




Computer Network Cable.




Tools for UTP Solution.




Network&Video Media Conversion




Active Device.




Surge Protection




Test Equipment.




19" Cabinet Rack.




Control room for CCTV




Voice Equipment.




Material for Outside Plant.




Accessories for Installation.




Service & Support By BISMON.



---